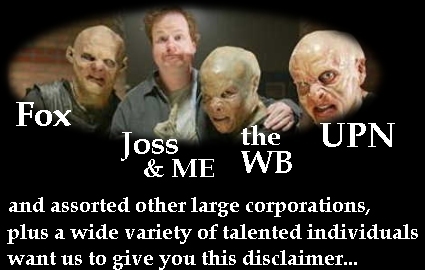 Buffy does not belong to us.

The rights to Buffy and the Universe she inhabits, as well as to all the friends she has there, all the demons she fights there, even the very words she has previously spoken there, and just about everything else you can think of belong to Joss Whedon, Mutant Enemy, Fox, the WB, UPN and several other large corporations as well as the assorted writers, producers and other talented individuals involved. We have nothing but our love for the show.

This is a fan run site. It is not for profit. We make no money doing this--in fact, it costs us money and an absolutely insane amount of time, hence the group's self-designation as "Lunatics."

This site uses screencaps, edited or not, from a wide assortment of sources, mostly from the above, but possibly borrowed from somewhere else. The originals do not belong to us. The site will reference past episodes of Buffy and past/current episodes of Angel, and might even pull dialogue from the shows. That dialogue belongs the above mentioned corporations and individuals. The credits use clips and music from the show. Those clips and that music belong to the show and the show owners. Any other songs that we reference in our writings or work belong to those specific artists and writers, not to us.


For all of these things, no copyright infringement is intended.


The stories, the art, and the other created material on this site, they do belong to us. Of course if Fox and the big corporations decide to sue, we'll drop everything and run like scared bunnies.

But we won't just give it to the rest of you. You may use for your own enjoyment what we have made available for downloading. You can post that designated material on your sites. You may read the stories and extras and of course, you can link to us, but please don't take any of our text, art, vidclips or other material and use them as your own, put them on your own sites, or adapt them without our permission. And definitely, you may not sell anything from here--remember, we're not making any money so you shouldn't either!

This is, of course, completely unauthorized in an official sense. But we hope it is appreciated by you and who knows, perhaps even by Joss and a few others. After all, Joss gave us our unofficial marching orders. For when asked what fans were supposed to do with our extra time each week now that Buffy was over, he said clearly, "Write Fanfic." Joss, we're doing what you told us to do. We hope you like it.

---


Please go here for the "fanfic disclaimer," ie, the ratings, pairings, warnings, and other notations traditional to fanfic.