Tomato Ketchup
Makes about 2 cups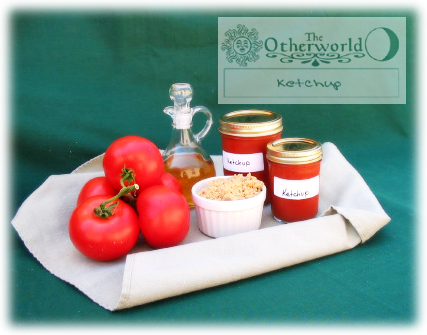 Making your own ketchup may seem like a lot of work but the moment you taste our homemade variety you'll know it's well worth the effort! You won't miss all the corn syrup and preservatives you get in the grocery store version one bit.

If you don't have vine-ripened tomatoes in your own garden, you can substitute a 28 ounce can of diced tomatoes for the fresh ones in our recipe.



Ingredients:

2 lb tomatoes, peeled and seeded
1 medium onion, chopped
2 tbl olive oil
4-6 oz tomato paste
2/3 c dark brown sugar
1/2 c cider vinegar
1/2 tsp salt

Puree the tomatoes in the blender until smooth.

Cook the onion in the oil over medium heat until soft, about 8 minutes. Add the pureed tomatoes, 4 oz tomato paste, brown sugar, vinegar and salt. Reduce heat and simmer uncovered, stirring occasionally, until it begins to thicken, about 45 minutes.

After 45 minutes, taste it - careful, don't burn your tongue! Depending on how ripe and juicy your tomatoes were, you may want to add more sugar to sweeten or more tomato paste to thicken and give a richer tomato flavor.

After making these adjustments, continue simmering until very thick, about 15-30 minutes longer. Watch it toward the end as it will begin to splatter as it gets thicker. Just stir and turn the heat down a bit if it's getting too messy.

Chill the ketchup covered for at least 2 hours, although it'll taste much better after a day or two. It keeps in the refrigerator for at least 3 weeks.