Slug Soup
Serves 4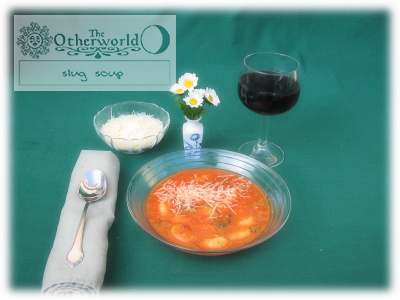 We know this is a town favorite from the number of servings we sell every year at Slug Fest. Now you can make it at home anytime you like. Consider multiplying the recipe and freezing some for another day.

You can vary the vegetables to your taste or to whatever is in season and looks good in the garden or farmer's market. The soup derives its flavor mostly from the vegetables, so use a good assortment of the best quality available to you.

If you make the soup without the slugs, it is as delicious served cold as hot.



Ingredients:

1 small leek, white part only
1/2 small onion
1 stalk celery
1 small zucchini
1 small head broccoli
6 green beans
1 medium carrot
3 tbl olive oil
2 tbl water
4 cups chicken stock
1 lb package potato gnocchi (you didn't think those were really slugs, did you?)
4 large, ripe tomatoes, peeled and seeded (or a 28 oz can petite diced tomatoes)
2 medium garlic cloves
15 fresh basil leaves
salt and pepper to taste

Cut the leek, onion, celery, zucchini, broccoli, green beans and carrots into 1/4 inch dice. Combine 1 1/2 tbl olive oil and water in a large stockpot. Add the vegetables and saute over medium heat until the water has evaporated. Do not allow the vegetables to brown.

Add the stock and bring to a boil. Boil gently for 30 minutes. Add gnocchi and cook 5 minutes more.

Meanwhile, puree tomatoes, basil, garlic and remaining olive oil in blender until smooth. Stir the puree into the cooked soup and season with salt and pepper to taste.