Tomato Salsa
About 2 cups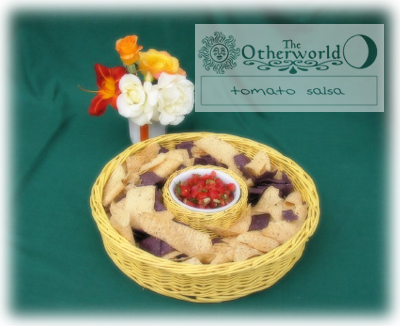 This is best served a few hours after you make it, but it keeps in the refrigerator for 2-3 days. It's a wonderful summer time snack or party appetizer when made with garden fresh, sweet, ripe tomatoes.

It's usually served with tortilla chips, but we also like it on a baked potato, folded into an omelette or rolled into a tortilla with meat, cheese and shredded lettuce for a light lunch. Maybe you'll find even more uses for it.

We make ours fairly mild, but if you like more heat, use more chiles. Please be careful handling the chiles. It's best to wear gloves and remove them when you're done, but at least wash your hands after you chop them. If you don't and touch your mouth or eyes - well, you'll have our sympathies.



Ingredients:

12 ounces ripe tomatoes (about 2 medium round or 4-5 plum)
2 fresh serrano chiles
A dozen large sprigs of cilantro, finely chopped
1 large garlic clove, finely chopped
4 scallions, thinly sliced
2 tsp lime juice
salt to taste

Core and seed the tomatoes. Dice the flesh to about 1/4 inch pieces and scoop into a bowl. Cut the peppers in half lengthwise and remove the seeds (or leave them, if you like a spicier salsa). Chop finely and add to the tomatoes. Stir in the remaining ingredients.

If you have the time, allow the salsa to stand on the counter for at least an hour (or longer covered in the refrigerator) to blend the flavors.