Roast Brisket and Vegetables
serves 8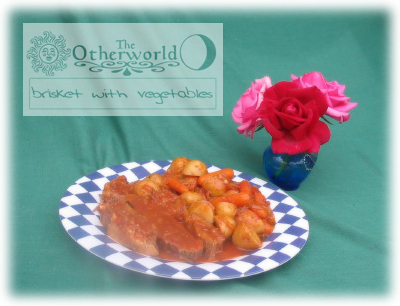 You are unlikely to find a better dish than this one to serve in front of the fire on a cold evening. It's rich and deep and warmly filling. It takes a long time to cook, but most of the time it just sits in the oven where you can ignore it and go about your business.





Ingredients:

2 1/2 lb beef brisket
6 cups thinly sliced onions, separated in rings
1 cup bottled chili sauce
1/2 cup beer
1 tbl brown sugar
1 tbl Worchestershire sauce
1 lb baby carrots
1 1/2 lb red new potatoes, halved
1/2 tsp black pepper
1/2 tsp salt
2 garlic cloves, chopped

Preheat the oven to 325 degrees.

Place brisket in a large roasting pan (one with a lid, if you have one) and top with onions. Combine chili sauce, beer, sugar and Worchestershire sauce. Pour over onions. Cover and bake for 1 1/2 hours.

Stir onions into cooking liquid. Arrange potatoes and carrots around brisket and baste with cooking liquid. Sprinkle with salt, pepper and garlic. Cover and bake for another 1 1/2 hours.

Remove brisket from roasting pan and let stand for 10 minutes. Meanwhile, remove the vegetables from the cooking liquid with a slotted spoon. If the liquid is thinner than you would like for a sauce, reduce it in a sauce pan on the stove.

Slice the brisket diagonally across the grain and arrange it with the vegetables on plates or on a platter. Pour some sauce over and serve the rest alongside.

If you have the time, this will taste even better the next day. Pour the sauce over the sliced meat in a storage container and put the vegetables in another one. Keep both in the refrigerator and reheat in the microwave when ready to serve.