Roasted Red Pepper Dip
about 1 cup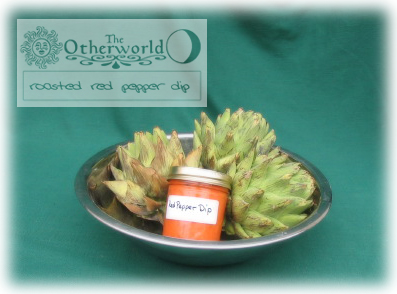 We call this a dip because we first tried it as such with steamed artichokes. Since then, we've found so many other uses for it that we hardly know what to call it now.

It can be spread on a cracker or in a sandwich, tossed with warm pasta, spooned over a grilled chicken breast or some steamed vegetables and used as a dip for crudite or chips.

You just need to have a jar in your refrigerator and wait for inspiration to strike.



Ingredients:

2 red bell peppers
2 tsp olive oil
2 tsp Dijon mustard
1 tsp red wine vinegar
1/4 tsp dried fine herbs*
1/8 tsp black pepper
3 tbl crumbled feta cheese
1 tsp capers

Cut bell peppers in half lengthwise and remove the stem, core, seeds and white ribs. Line a cookie sheet with foil (or don't, if you really feel like scrubbing later) and lightly oil or coat it with cooking spray. Place the peppers, cut side down, on the tray and broil until the skin is blackened, about 10 minutes.

Put the peppers in a bowl and cover tightly so they can steam and cool. Let stand for 20 minutes. When they're cool enough to handle, peel off the skin - under running water, if you like. Put the peppers with the remaining ingredients in a blender and process until smooth.

Depending on how you plan to use the dip, you may want to leave either the capers, the cheese or both out of the blender and either stir them in at the end or sprinkle them over the top.

The dip keeps covered in the refrigerator for about a week.

*If you don't have store-bought dried fine herbs on hand, you can mix your own of equal parts dried tarragon, chives, chervil and parsley. If you use fresh herbs, the recipe will require about 2-3 times as much as the dried.