Raspberry Marinated Carrots
serves 6 generously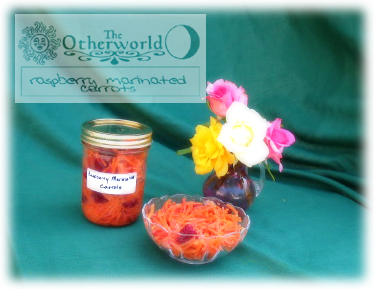 This is a great way to use our Raspberry Vinegar, or any fruit flavored vinegar you like. It is best served at room temperature, so it's good for picnics or on a buffet table.

We like it as part of an antipasto platter with other salads, vegetables, meats and cheeses.

It you choose to stir in some fresh raspberries, which looks lovely, do so no more than a few hours in advance of serving because they tend to get mushy. You may like your peas mushy, but probably not your berries.



Ingredients:

1 1/2 lb carrots
1/3 cup raspberry vinegar
1/2 cup olive oil
freshly ground black pepper to taste

Either shred the carrots or peel and slice them into 1/8 inch thick circles. Drop the carrots in boiling water and cook until nearly tender, about 5-6 minutes. Drain them well and, while they're still hot, toss them with first the vinegar and then the oil. Add pepper to taste.

Cover and refrigerate the carrots at least overnight, although they continue to improve in flavor for several days.

To serve, bring the carrots to room temperature and remove to a serving dish with a slotted spoon. If you like, toss in a few fresh raspberries.