Pumpkin Apple Butter
Makes about 3 cups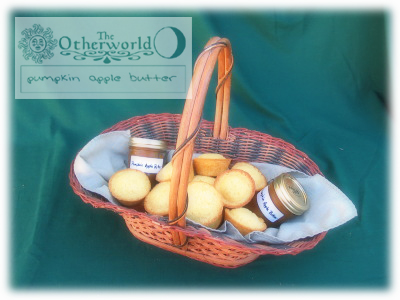 We had this at dinner the other night with a big basket of corn muffins. Nothing could be better with a hot bowl of soup or stew on a cold rainy night. Goddess knows, there are plenty of those in Whispering Pines!

Remember this calls for canned pure pumpkin - not pie filling. We don't know what you'll get if you use pumpkin pie filling, but it won't be this.



Ingredients:

1 can (15 oz.) pumpkin
1 medium apple, peeled and grated
1 cup apple juice
1/2 cup packed brown sugar
3/4 tsp pumpkin pie spice*

Combine all ingredients in a medium, heavy saucepan and bring to a boil. Reduce heat to low and cook, stirring occasionally, for 90 minutes or until thickened to desired consistency. Partially cover the pot, if you want to limit the splatters to the immediate vicinity of the stove.

Store in the refrigerator for up to 2 months.

* If you don't have the ready-made spice mix in your pantry, make your own from 1 tsp cinnamon, 1/2 tsp ground ginger, 1/4 tsp ground alspice or ground cloves and 1/4 tsp ground nutmeg.