Poppy Seed Dressing
about 2 cups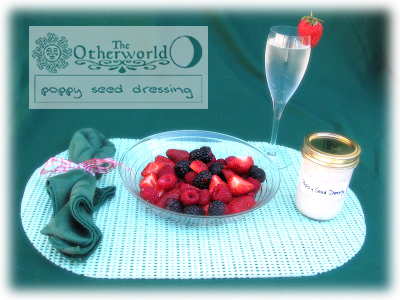 This dressing is unusual in that it's more sweet than tart. We like it especially over mixed berries or in a spinach salad with red onions, hard boiled eggs and crumbled bacon. It also makes a lovely dip for sliced fruits and vegetables.



Ingredients:

1 egg white or 1/8 cup egg substitute
1/8 cup sugar
1/2 tbl Dijon mustard
1/3 cup red wine vinegar
1/4 tsp salt
2 tbl finely chopped onion
1 cup vegetable oil
1 1/2 tbl poppy seeds

Combine egg white, sugar, mustard, salt and onion in a small food processor or blender. Process for 1 minute. With the motor running, add the oil in a slow, steady stream until fully incorporated.

Transfer to a container, stir in the poppy seeds, cover and refrigerate. The dressing will keep in the refrigerator for at least a week.