Pesto Sauce
about 2 cups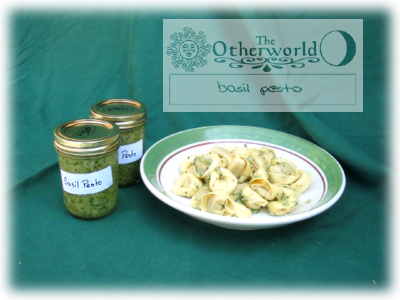 Pesto sauce is one of the most versatile things you can have in your refrigerator. This recipe is for a basic basil pesto, but you'll have fun experimenting with it. Try a different nut, walnuts for example, or add a handful of sundried tomatoes.

There are so many uses for pesto, they are impossible to list. It's great with pasta, of course, but it's also good mixed with scrambled eggs or added to mayonnaise as a topping for poached fish. A spoonful added to your favorite potato salad is delicious and the same is true when you fluff some into plain rice.



Ingredients:

2 cups fresh basil leaves
4 garlic cloves, chopped
1/2 cup pine nuts
3/4 cup olive oil
1 cup grated Parmesan cheese
1/4 cup grated Romano cheese
Salt and pepper to taste

Combine the basil, garlic and pine nuts in the food processor (or make the recipe in two batches in the blender ) and chop. With the motor running, add the oil in a slow, steady stream. Add the cheeses, salt and pepper and process briefly to combine.

Stored covered in the refrigerator, the pesto will keep for several weeks.