Mushy Peas
serves 4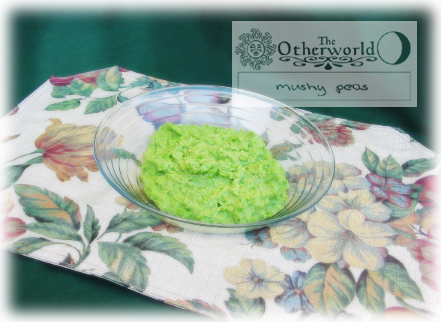 Mushy peas are a frequent side dish at the Coven table. We were introduced to them some years ago by Elspeth Stewart. We Yanks were reluctant to try them, given their less than appetizing name, but more British heads prevailed and the dish was prepared in the Coven kitchen. As soon as we tasted it, we forgot the silly name and had to admit, we love the dish.

We hope the same happens in your house because, once you taste these, you will be making them over and over, just as we do.




Ingredients:

1 10 ounce package frozen peas
1/4 cup heavy cream
1 tbl butter
1/2 tsp salt
1/4 tsp black pepper

Bring a shallow pot of salted water to a boil and cook peas until tender, about 3 minutes.

Drain peas and process with other ingredients in a food processor or blender until well blended. You want to continue until it is almost smooth, but still thick with small pieces of peas.

Adjust the seasonings to taste and serve immediately.