Moussaka
serves 10-12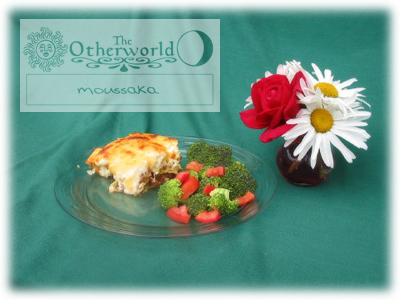 This makes a delicious offering at a party or for a potluck since it can be made ahead and reheated. It's more interesting than traditional moussaka because it uses artichokes instead of eggplant. Your family and friends will surely ask for seconds.



Ingredients:

4-5 cans whole non-marinated artichokes
1/2 cup plain bread crumbs
1 cup grated Parmesan cheese

For the meat sauce:
2 tbl olive oil
4-5 medium onions
2 lb lean ground meat
3 cups chopped plum tomatoes (about 6-8)
3-6 cloves garlic, minced
1/2 tsp ground cloves
1/2 tsp ground cinnamon
pinch of allspice
salt and pepper to taste
1/8 cup water
3 tbl tomato paste
1/2 cup dry red wine

For bechamel:
10 tbl butter
10 tbl flour
5 cups whole milk
salt and pepper to taste
generous pinch of nutmeg
3 egg yolks


Drain the artichokes and slice in 1/8 inch slices. Set aside.

To prepare the meat sauce, saute the onions in olive oil in a large skillet until soft. Add ground meat and brown. Add the rest of the sauce ingredients, except for the tomato paste and wine. If your tomatoes are less than perfectly ripe and sweet, you may want to add a small spoonful of sugar. Cover and simmer for 45 minutes. Remove the lid, stir in the tomato paste and wine, and continue cooking until the liquid is absorbed, about 10-20 minutes. Allow to cool while you make the bechamel.

In a medium saucepan, melt the butter over low heat. Do not let it brown. Add flour and stir with a wooden spoon until the raw taste is out of the flour, about 3 minutes. Slowly add the milk and cook, stirring or whisking continuously, until the sauce is creamy and quite thick. This will take 10-20 minutes, depending on the strength of the heat. Remove from heat and stir in the spices. Allow to cool slightly before beating in the egg yolks with the wooden spoon.

Preheat oven to 350 degrees. Lightly oil a 9x13 inch casserole and sprinkle the bread crumbs on the bottom. Layer 1/3 of the artichokes, half the meat sauce, half the remaining artichokes, the rest of the meat sauce and the rest of the artichokes. Spread the bechamel over the top and sprinkle with Parmesan cheese. Bake for an hour.

You can make this ahead and keep it in the refrigerator for a day or in the freezer for weeks.