Mango Chutney Dressing
about 1 1/2 cups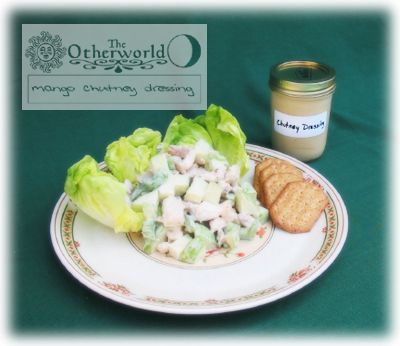 This dressing is great for all sorts of salads, not just the tossed green variety. Try mixing it with pasta, carrot, celery, onion and chunks of roast chicken for a delicious pasta salad. Or perhaps wild rice, duck meat, scallions and mandarin oranges.

You needn't tell anyone that this is just your clever way of using up leftovers.



Ingredients:

1 egg or 1/4 cup liquid egg substitute (e.g. Egg Beaters)
1/2 tbl Dijon mustard
1/8 cup berry-flavored vinegar
1/4 cup mango chutney
1/2 tbl soy sauce
Salt and pepper to taste
1 cup vegetable oil

Combine egg, mustard, vinegar, chutney and soy sauce in a small food processor or blender. Process for 1 minute. With the motor running, add the oil in a slow, steady stream. When all the oil has been incorporated, scrape down the sides of the container, adjust the seasonings and transfer to a storage container.

Store covered in the refrigerator. The dressing will keep for at least a week.