Lemon Pound Cake
1 loaf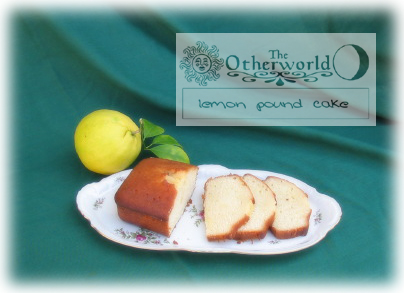 This pound cake is wonderful fresh out of the oven, but brushing it with syrup and allowing it to sit for a day gives it a more pronounced lemon flavor and helps it to stay moist and fresh a few days longer.

If you like them, try adding a few spoonfuls of poppy seeds to the batter. They add an interesting crunch.



Ingredients:

3 tbl milk
3 eggs
1 1/2 tsp vanilla extract
1 1/2 cups all purpose or cake flour
1 cup plus 2 tbl sugar
3/4 tsp baking powder
1/4 tsp salt
grated zest of 2 lemons
13 tbl unsalted butter at room temperature
1/4 cup fresh lemon juice

Preheat the oven to 350 degrees. Grease and flour a loaf pan. Lightly combine the milk, eggs and vanilla in a small bowl.

In a large mixing bowl, combine the flour, 3/4 cup of the sugar, baking powder, salt and lemon zest. Mix on low speed for a few seconds to blend. Add the butter and half the egg mixture. Mix on low speed until moistened, then scrape the sides of the bowl. Increase the mixer speed to medium and beat for 1 minute. Gradually add the rest of the egg mixture, scraping the sides of the bowl as necessary.

Spoon the batter into the prepared pan and smooth the top. If you're using a four-cup loaf pan, it will be nearly full. If your pan is smaller, make a few cupcakes with the excess.

Bake until a toothpick inserted in the center comes out clean, about 1 hour.

When the cake is nearly done, make a syrup by stirring the lemon juice and remaining 1/4 cup plus 2 tbl sugar in a small saucepan over medium heat until the sugar has dissolved.

As soon as the cake comes out of the oven, poke it all over the top with a wooden skewer and brush it with half the syrup. Let it cool in the pan for 10 minutes. Spray a wire cooling rack with cooking spray. Loosen the sides of the cake from the pan and invert it on the rack. Poke the bottom with the skewer and brush on some more syrup. Turn it right side up and brush the rest of the syrup on the sides.

Allow the cake to cool completely. Wrap it tightly in plastic wrap and store at room temperature for 24 hours. The syrup will distribute itself evenly throughout the cake.

The cake will stay fresh at room temperature for about 3 days, a week in the refrigerator or several months in the freezer.