Ginger Sweet Pickles
Makes 2 quarts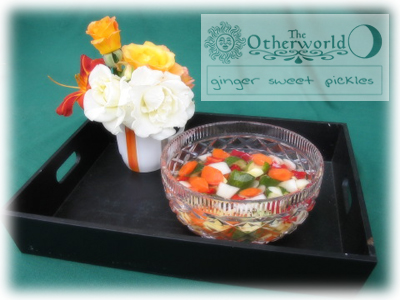 These pickled vegetables have a lovely sweet-sour taste and are gorgeous to look at. They would be great in a glass bowl on a buffet table or as a bit of side interest with a sandwich.

Some of our customers tell us they pack a few pieces in school lunches and their kids gobble it up. Fancy that!



Ingredients:

1/2 lb 2-3 inch pickling cucumbers
1 tsp sea salt
1/2 cup ginger, peeled and thin-sliced
2 small dried chile peppers
1 1/2 cups rice vinegar
1 1/2 cups water
1 1/2 cups sugar
2 cups diagonal carrot slices, 1/2 inch thick
1 large red bell pepper, cut in 1 inch squares
1 large onion cut in 1 inch chunks

Wash the cucumbers and cut in half lengthwise and then in 1 inch slices. Toss in a bowl with 1/2 tsp of salt and allow to sit for 1-2 hours. Rinse and drain the cucumber slices twice.

In a large saucepan, boil the ginger, chile peppers, vinegar, water, sugar and remaining 1/2 tsp salt, stirring to dissolve the sugar and salt. Remove from heat and add the carrots. Allow the mixture to cool.

Add the cucumbers, bell peppers and onions to the saucepan and mix well. Pour into a 2 quart jar, cover and refrigerate.

The pickles will be ready to eat after three days and will keep for at least 2 months in the refrigerator.