Fudge Sauce
about 1 cup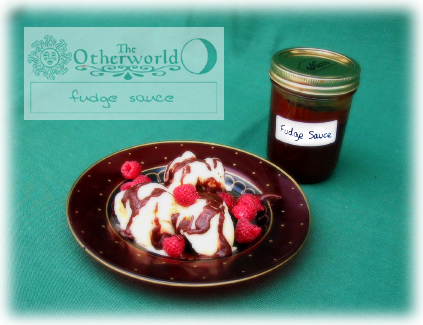 Hot fudge sauce has to be one of the greatest inventions of woman! It's wonderful right off the stove but it also keeps well in the refrigerator for a treat anytime. In fact, while writing this, I'm enjoying a few spoonfuls drizzled over a slice of chocolate cake.



Ingredients:

2 ounces unsweetened chocolate
5 ounce can evaporated milk
3/4 cup sugar
2 tbl unsalted butter
2 tbl corn syrup
1 1/2 tsp vanilla
1/8 tsp salt

Finely chop chocolate and set aside.

Heat milk and sugar in a small saucepan over medium low heat until sugar is dissolved. Stir in chocolate, butter and corn syrup. Continue cooking until glossy and smooth. Bring to a boil over medium heat, stirring occasionally, and continue to boil gently for 8 minutes.

Remove from heat and stir in vanilla and salt. Cool the sauce completely before covering. If you cover the sauce while it's still warm, moisture on the inside of the lid caused by the steam will make the sauce grainy.

The fudge sauce will keep in the refrigerator for at least three weeks. Reheat gently over a double boiler or in the microwave.