Spicy Cherry Chutney
about 1 1/2 cups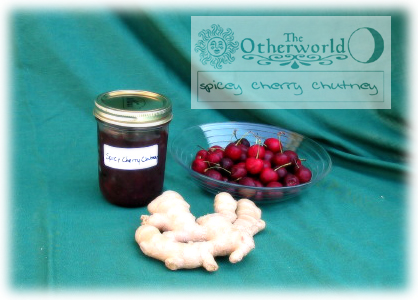 This chutney is delicious with any kind of roast or grilled meat. It can transform a simple chicken breast or pork chop into something magical.

When we say spicy, believe it! If you like your chutney milder, simply adjust the amount of red pepper flakes you use or eliminate them entirely.



Ingredients:

1 orange
3 cups fresh or frozen pitted tart cherries (about 2 pints fresh or 1 lb frozen)
1 cup chopped onion
1/2 cup chopped green bell pepper
1/2 cup chopped red bell pepper
1/3 cup packed brown sugar
1/4 cup balsamic vinegar
2 tsp minced fresh ginger root
1/4 tsp hot red pepper flakes
1/2 tsp ground cardamom
1/2 tsp dried or 2 tsp fresh mint
1/4 tsp allspice
1/2 tsp salt

Using a vegetable peeler, remove two 2 inch strips of zest from the orange. In a heavy saucepan, stir the zest together with the remaining ingredients and bring to a boil. Simmer, stirring occasionally for about an hour, or until thick and syrupy. Stir more frequently toward the end as it will tend to scorch and stick to the bottom of the pan.

Cool and store covered in the refrigerator. It will be good for at least 3 weeks.