Carrot Cake with Maple-Cream Cheese Frosting
serves 8-10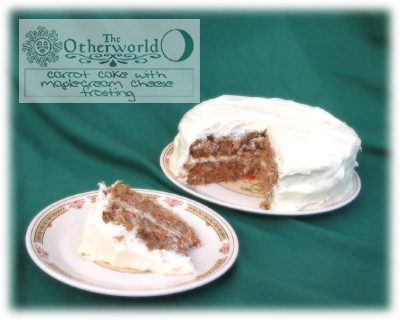 This is a basic carrot cake that you can adapt to your own tastes. We use coconut because not everyone here likes nuts or currants. Both can be added, as can drained crushed pineapple, but be careful or the cake will become too crumbly under the weight of the extra ingredients. Try to add no more than one cup in total of whatever extras you choose.



Ingredients:

For Cake:
2 cups sugar
1 cup vegetable oil
4 large eggs
2 cups all-purpose flour
2 tsp baking soda
1 tsp ground cinnamon
1 tsp ground ginger
1/2 tsp salt
4 cups finely grated peeled carrots
1 cup shredded coconut, or other extras

For Frosting:
16 ounces cream cheese, room temperature
1/2 cup (one stick) butter, room temperature
1 1/2 cups powdered sugar
1/2 cup pure maple syrup
1 1/2 tsp vanilla extract

Preheat oven to 350 degrees. Butter and flour two 9 inch cake pans.

Beat sugar, oil and eggs in a large bowl with an electric mixer until blended. Add flour, baking soda, cinnamon, ginger and salt. Beat until just combined. Stir in carrots and coconut. Divide batter evenly between the two pans.

Bake until a toothpick in the center comes out clean, about 40 minutes. Cool in pans on a rack for 15 minutes. Loosen the cakes from the sides and turn onto the rack. Cool completely.

Make the frosting by beating the cream cheese and butter in a large mixer bowl until smooth. Add powdered sugar, syrup and vanilla, beating until smooth.

Place one cake layer, flat side up, on a serving dish. Spread 1 cup frosting on top. Cover with second layer, flat side down. Spread remaining frosting over the top and sides of the cake.

Refrigerate the cake for at least 1 hour or up to one day. Serve at room temperature.