Caramel Sauce
about 2 1/2 cups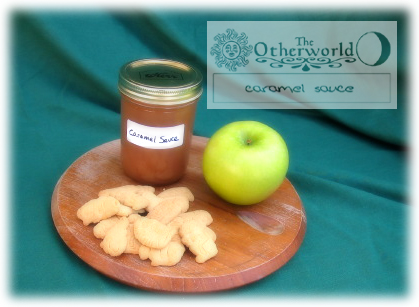 This sauce is a little tricky to make and novices have been known to produce something more akin to a moonrock than a desert sauce. Keep a close eye on it and you'll be fine. Once you get the hang of it, you'll find it so delicious that you'll want to have a jar in your refrigerator at all times.

Try it warm over ice cream, at room temperature over cake or pudding and right out of the refrigerator with apple slices or cookies to dip.





Ingredients:

2 cups sugar
1 cup water
8 tbl unsalted butter (1 stick)
1 cup heavy cream
1/8 cup light corn syrup

Cut the stick of butter into pieces and set aside to come to room temperature. Have cream and corn syrup measured and ready.

Place the sugar and water in a heavy saucepan and stir over low heat until sugar dissolves. Increase heat to high and continue cooking, swirling the pan to get an even color, until the mixture turns a very deep amber. If it starts to boil up and over, reduce the heat a little, but keep it as high as possible or it will take forever to reach the right color. It will probably take about 15 minutes.

Remove the pan from the heat and whisk in the butter, cream and corn syrup. Be careful because it will sputter and steam and not be happy at all.

Return to the heat and continue whisking to thoroughly mix the ingredients. Boil for 3-5 minutes until it looks glossy and pretty.

Cool slightly , pour into jars, cover and chill. It will keep for at least two weeks in the refrigerator and indefinitely in the freezer.

The sauce can be served warm or at room temperature, but is too thick to pour when chilled. It may separate a bit in the refrigerator. If so, warm it for about a minute in the microwave and stir.