Caper Dill Dip
about 2 1/2 cups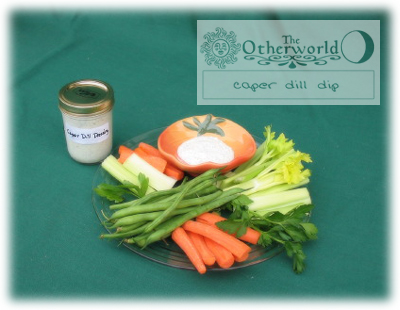 We use this most often as a dip for crackers, chips or crudite, but it also makes a good dressing for a green salad. If you're using it for salad, you may want to thin it a bit with a little oil and/or vinegar.



Ingredients:

3/4 cup mayonnaise
1/4 cup sour cream or plain yogurt
2 dill pickles, chopped
1-2 tablespoons capers
4 scallions, chopped
1 tsp dried dill weed or 1 tbl fresh
Salt and pepper to taste

Mix all ingredients together by hand, for a chunky result or use a blender for a smoother texture.

Allow the flavors to blend covered in the refrigerator for a minimum of a few hours. The dip will keep refrigerated for at least a week.