Bolognese Sauce
about 3-4 cups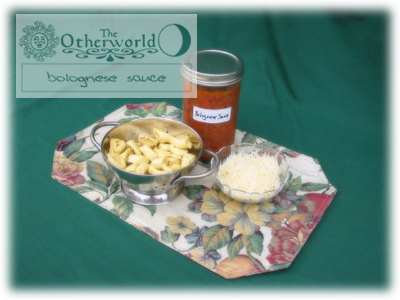 This is a basic Italian meat sauce. You can serve it over pasta or use it in lasagne or even as a pizza topping. It takes a long time to make, although for most of the time it tends to itself. Like all things that sit on the stove simmering away for half the day, it tastes rich and fabulous and is worth the wait.

It also makes your house smell so great that the first question your family and friends will ask when they walk in the door is, "When's dinner going to be ready?"



Ingredients:

1/4 cup olive oil
1 small onion, finely chopped
2 ribs celery, finely chopped
1 carrot, finely chopped
2 ounces proscuitto, finely chopped
1 lb ground beef
salt and pepper to taste
1 cup whole milk
pinch of nutmeg
1/2 cup dry white wine
1 24 ounce can chopped tomatoes

In a large pot, over medium heat, warm the oil. Add the chopped onion and cook for 10 minutes, until soft. Add the celery, carrot and prosciutto and continue to cook for 2 minutes. Add the ground beef, season with salt and pepper, and cook for 5 minutes, breaking up the larger pieces with a wooden spoon, until no longer pink. Carefully add the milk and reduce, stirring occasionally, until the milk has evaporated and the pan is nearly dry, about 15-20 minutes. Stir in the nutmeg and then the wine. Continue cooking until the wine is reduced by half, about 15 minutes.

Pour in the tomatoes, with their liquid, and bring to a boil. Reduce the heat to low and simmer for 2 hours or until the sauce has reduced to the desired consistency.

The sauce can be served immediately, but improves in flavor if stored covered in the refrigerator for a day or two.