Barbecue Sauce
About 1 1/2 cups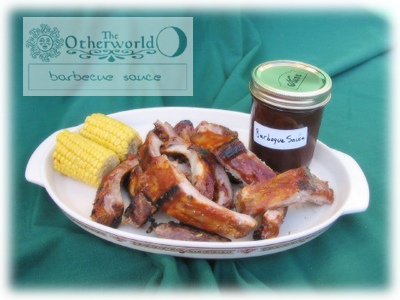 Our barbecue sauce has always been one of the most popular items at The Other World. Many residents of Whispering Pines have tried to duplicate it at home and, failing that, have tried to wheedle the recipe out of us.

Until now it has remained a closely guarded Coven secret but we've decided it's finally time to share.



Ingredients:

1 cup Coca-Cola
1 cup ketchup
1/4 cup fresh lemon juice
1/4 cup fresh orange juice
3 tbl Worcestershire sauce
1 1/2 tbl brown sugar
1 tbl molasses
1 tsp grated orange peel
1/2 tsp ground ginger
1/2 tsp garlic powder
1/2 tsp onion powder

Combine all ingredients in a heavy saucepan and bring to a boil over medium heat, stirring occasionally. Reduce heat to medium-low and simmer until reduced to 1 1/2 cups, about 20 - 30 minutes.

If the sauce is still thinner than you would like, continue cooking until desired consistency is reached. Be careful as the sauce thickens, though. It will scorch on the bottom, if not stirred often.

Can be used immediately or stored in the refrigerator for up to 2 weeks.