Carmel Apple Crumb Pie
8-10 servings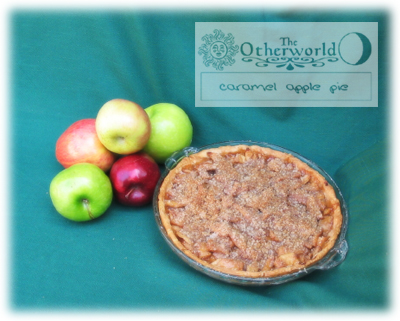 This is a delicious and fairly easy fresh apple pie with a struesel topping. We recommend you try different apples, alone and in combination, to find the varieties you like best. We make ours with Granny Smith and Gala.



Ingredients:

Single pie crust (home made, frozen or ready-made)

For Filling:
1 tbl butter
1/2 cup packed brown sugar
3/4 tsp ground cinnamon
9 cups peeled, sliced apples (about 2 3/4 lb)
3 tbl all-purpose flour
2 tsp lemon juice

For Topping:
1/4 cup all purpose flour
1/4 cup packed brown sugar
2 tbl chilled butter, cut in small pieces
1/4 cup carmel sauce

Preheat oven to 375 degrees. Line the 9-inch pie shell with foil and arrange pie weights or dried beans to cover the bottom. Bake for 15 minutes, or until the edge is lightly brown. Remove to a wire rack, remove foil and allow to cool.

Melt 1 tbl butter in a large skillet over medium high heat. Combine 1/2 cup brown sugar and cinnamon. Add sugar mixture and apple slices to the pan. Cook 5 minutes, stirring occasionally. Remove from heat and toss in 3 tbl flour and lemon juice. Spoon into prepared crust.

Combine 1/4 cup flour and 1/4 cup brown sugar in a bowl or a small food processor. Cut in 2 tbl butter with a pastry blender, two knives or by pulsing the processor until it resembles a coarse meal.

Drizzle carmel sauce over apples in crust and top with the struesel.

Bake at 375 degrees for 30 minutes or until topping is nicely browned and apples are tender.

Cool on a wire rack and serve at room temperature. A little ice cream or whipped cream couldn't hurt.

You can store leftovers (if you have any) covered in the refrigerator for several days.