Alfredo Sauce
about 3 cups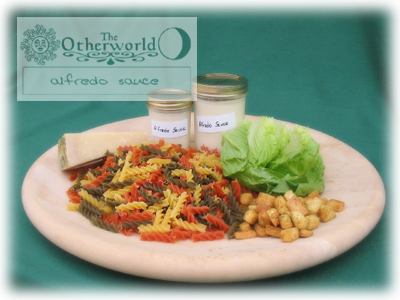 This simple sauce is great with pasta, of course, but it also makes a lovely dipping sauce for garlic bread or breadsticks and is a nice topping for steamed vegetables. We've even known certain people raiding the refrigerator late at night to spread the chilled sauce on a cracker!

When we serve it with pasta, we throw whatever vegetables are at hand in with the pasta for the last few minutes of cooking and toss the whole together for pasta primavera.

You may want to try varying the cheeses for different uses. For example, cheddar instead of some or all of the parmesan makes a good topping for broccoli. Your kids may eat their vegetables yet!



Ingredients:

1 pint heavy cream
1/2 cup butter
2 tbl cream cheese
1/2 - 3/4 cup shredded parmesan cheese
1 tsp garlic powder

In a saucepan combine butter, cream and cream cheese. Simmer until all is melted and well combined. Add the parmesan cheese and garlic powder, stirring until parmesan is melted. Simmer 15-20 minutes on low heat. Season with salt and pepper to taste.

The sauce will keep in the refrigerator for several days, if no one sneaks in with a box of crackers.