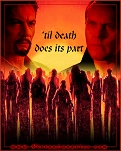 We wanted that last poster to be JUST right.

We originally had planned to use the prom picture as the poster (it was custom designed to match the end of the ep for that reason), but it doesn't work vertically and it didn't cover the season--we needed Ethan. We needed menace.

The first poster created was the zombie poster which was then used on the boards as a spoiler. It's a great poster, but it doesn't show the whole gang. And the season really wasn't about zombies even if the episode featured them. We were very aware that while this was an episode poster, it was also very much our season's LAST poster, the series' final poster...

We had so many things to consider here. Ideally the finale poster would show something representing the Dawn/Ethan story arc plus feature the whole gang. Perhaps it would have something representing Buffy's struggles to accept being a Slayer, as well as a nod to Katako and Faith... Of course it should be angsty and scary but ideally also upbeat and happy and positive. How could we do it all? There were so many factors to take into consideration!